As devices get slimmer and faster with each new launch, chip manufacturers are under pressure to produce smaller but more powerful components. With transistor density doubling every couple of years, LatticeGear is well aware that high-precision wafer cleaving tools are needed to keep pace with surging technology.
Innovative wafer cleaving tools boost accuracy
Working closely with research institutions and industrial laboratories handling steady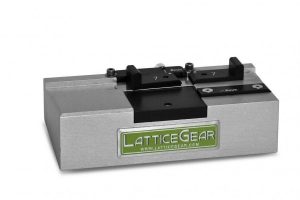 throughflows of samples, LatticeGear's benchtop wafer cleaving tools serve as innovative springboards for technological leaps. As an example, its Small Sample Cleaver can work securely to dice chips as tiny as 2×2 mm.
Other products include scribing and cleaving stations, as well as handheld tools. But clean cleaves depend heavily on scribing quality, and handheld equipment might not always produce a top-quality cleave. Worse still, the direction in which a cleave propagates cannot always be properly controlled.
Wide range of wafer cleaving tools ensures accuracy, every time
This is where scribing and cleaving tools designed by LatticeGear are worth their weight in gold. Its two flagship products are LatticeAx and Flipscribe. Using dry processes at room temperature, both these tools offer clean (and repeatable) wafer downsizing methods. Their advantages include:
more accurate results at lower costs, for faster, more efficient product development;
fewer damaged samples and repeated experiments, stretching tight R&D funding;
less particulate contamination and scrap, for cleaner samples and budget-compliant projects.
Creative solutions from LatticeGear
Streamlining sample preparation for close on a decade, LatticeGear is on the cutting edge of cleanroom-compatible scribing and cleaving tools and technologies. With a solid science background, its founder Janet Teshima is well equipped to design innovative solutions for even the trickiest scribing and cleaving requirements. Give LatticeGear a call today at (503) 828-0040, and we'll be glad to explore innovative ways of scribing and cleaving your samples.