Three Reasons Why You Need Benchtop Mechanical Wafer Dicing Equipment
If you're into research and development (R&D), chances are you don't need large numbers of wafers, you don't want to spend too much money, and you want a piece of equipment that is easy to use.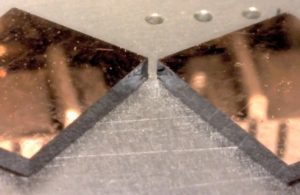 Get to know why you need mechanical wafer dicing equipment. You'll also learn a bit about the latest scribing tool making waves out there before meeting LatticeGear's top-performing wafer cleaving tool types.
Why Do You Need a Mechanical Wafer Dicing Equipment?
Mechanical wafer dicing equipment is relatively inexpensive.
They are perfect for research and development purposes which ordinarily require a small batch of die.
Mechanical wafer dicing tools are easy to use.
They have a smaller footprint than laser dicing tools.
Operators require shorter training time as mechanical dicing tools are less complex compared to laser dicing equipment.
Top Wafer Cleaving Tool Types at Lattice Gear
LatticeAx 120:

LatticeAx® 225

This cost-effective cleaving tool is ideal where high-quality results are required, along with the ability to cleave many sample types without extra preparation.

LatticeAx 225: The LatticeAx 225 is easy to operate, produces precise and repeatable cleave, and it cleaves samples with sky-high accuracy due to the addition of high magnification imaging.
LatticeAx 420: If you desire LatticeGear's top-performing cleaving solution, LatticeAx 420 is your tool. It is simple to use, processes samples quickly and cleaves many different materials and sample sizes. Also known to be efficient and has a small footprint.
Meet The Latest Scribing Tool!
FlexScribe, LatticeGear's latest scribing tool, has gained popularity for being fast and easy to use. It also continues to receive accolades for always making a straight scribe. It can scribe different types of materials, including glass slides and other crystalline and brittle materials.
What Makes LatticeGear Different?
LatticeGear designs and manufactures affordable, benchtop mechanical wafer dicing equipment. Keep your R&D within your budget with our wafer dicing applications and tools. Call us now at 503-828-0040.