LatticeGear has recently added new sizes to two of its popular products: the FlexScribe™ Station and the CleanBreak™ Pliers.
LatticeGear now offers a FlexScribe300, a flatbed scriber that is large enough to work with 300 mm wafers. Like the original FlexScribe100, the FlexScribe300 includes a standard tungsten carbide cutting wheel for use with a variety of materials including silicon, glass, and GaAs. The optional diamond wheel for harder materials like sapphire and the deep cutting tungsten carbide wheel for thick materials, are also compatible with the FlexScribe300.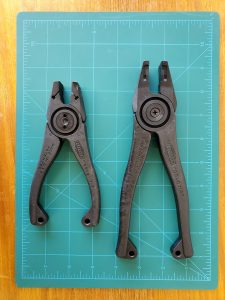 The new CleanBreak™ 8" pliers have longer handles and a wider opening. The larger size is effective for cleaving sapphire and glass down to 20 mm. Like the original CleanBreak™ pliers, the new size is made from lightweight, yet rugged plastic. The new size of pliers is included in our Carbide Cutter Cleaving Kit.